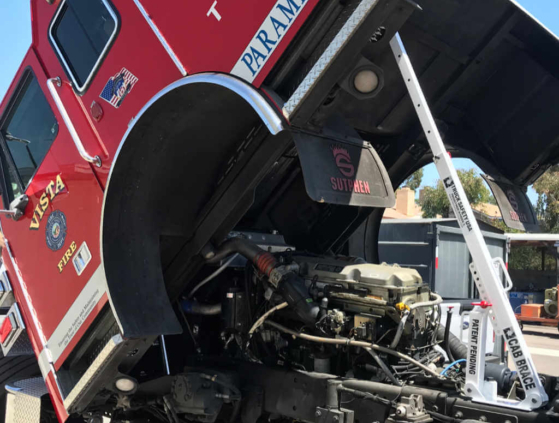 DUMP BRACE® Ensuring Longevity & Safety
Big trucks play an important role on-site and on the road. To stay safe while driving these trucks, you need to keep them at their best. With a safety-first mindset Truck Safety USA, has provided a tool that helps mechanics keep trucks operating at their best.
Why You Need a DUMP BRACE®
DUMP BRACE®s are like special locks that mechanics use to secure the raised beds of dump trucks. These braces were made to make sure you can regularly work on the truck, inspect it, and keep everyone involved safe.
Using a DUMP BRACE® is better than relying on the truck. It's easier to use this lock, and you can install it in about 60 seconds. This saves you time, especially when you're busy with a tight schedule and need to get the truck back to the site
With a DUMP BRACE®, you can lift the truck bed and keep it steady. It's a good investment because it saves you money and time in the long run. Plus, it's been tested and approved for safety.
Taking Care of Your DUMP BRACE®
To make sure your DUMP BRACE® lasts a long time, you need to maintain them. Just like anything else, they can wear out with use. Even if you don't use them often, certain things can cause them to wear down.
Make sure you are following the proper instructions for use, cleaning, and storage to get the most out of your DUMP BRACE®.
Changing The Game
In the past, mechanics had to perform maintenance or repairs under a dump truck's bucket, which could be risky. The bucket is heavy, and without proper support, it could suddenly drop, causing serious accidents or injuries. This made it challenging for mechanics to work safely and efficiently.
Now, with DUMP BRACE®, things have improved. These braces are designed to securely hold the bucket in place while mechanics do their work.
Compatible With Most Trucks
DUMP BRACE® safety locks are designed to work with many different types of vehicles, like single and double-axle dump trucks, mining trucks, dump trailers, flat tilt trailers, forestry trucks, chipper trucks, and roll-back trucks. These safety locks can be adjusted to fit the needs of specific situations and can be customized to match particular requirements. Whether you need them for repair work, regular inspections, or mechanical jobs DUMP BRACE® is your go-to shas solution. At Truck Safety USA we are dedicated to keeping things safe.
Order Your DUMP BRACE® Today
DUMP BRACE® is changing dump truck maintenance for the better. Truck Safety USA is here to provide crucial support and truck safety equipment for mechanics and other truck repair needs.
https://trucksafetyusa.com/wp-content/uploads/2023/10/dump-brace-longevity-e1696360999865.jpg
600
559
trucksafetyusa
https://trucksafetyusa.com/wp-content/uploads/2020/12/logo-1.jpg
trucksafetyusa
2023-09-28 19:12:13
2023-10-03 19:23:39
DUMP BRACE® Ensuring Longevity & Safety